10.10.2018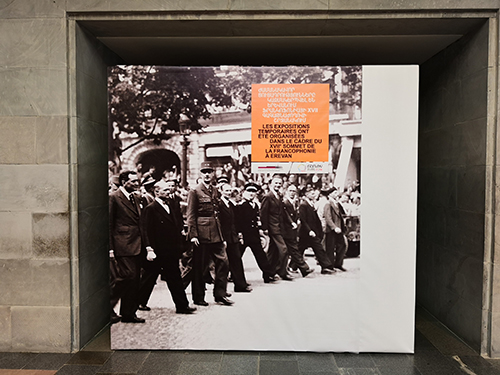 Today, in the framework of the XVII Francophone Summit in Yerevan, two new exhibitions - "The will to live and the mission to save" and "Grigor Chololian; the Armenian Photographer of Paris" - opened at the temporary exhibition hall of the Armenian Genocide Museum-Institute.
In the presence of numerous guests, media and French Ambassador to Armenia Jonathan Lacôt, the AGMI Director Harutyun Marutian inaugurated the temporary exhibitions.
Patris Chololian, the son of Grigor Chololian, also attended the event, and presented his father's activities both in France and Istanbul. He thanked Mr. Hayk Demoyan for supporting the exhibition.
The first exhibition entitled "The will to live and the mission to save" presented the newly uncovered photos of the evacuation of the participants of Musa Dagh Battle by the French navy.
The glass negatives of these unique and valuable photos have been handed over to the Armenian Genocide Museum-Institute by An Soupan, a granddaughter of Lucien Beaujé, who was a lieutenant at the French Navy cruiser "Gishen". In September 1915, Lucien Beaujé became not only a participant of rescue operations, but also recorded with his camera this great episode in the history of humanity and mankind.
The humanitarian operation of the French military to rescue the Armenians settled on Musa Dagh, who demonstrated an exceptional will to live, is a unique page in the history and memory of two nations. More than 4,000 survivors were resettled in Armenia, Lebanon, Canada, France and elsewhere, becoming honorable citizens and keeping bright the memory and the message of their ancestors.
The second exhibition named "Grigor Chololian; the Armenian Photographer of Paris is a logical continuation of the first and is connected with it; surviving the Genocide, Rescue, new destination, new homeland.
The exhibition includes unique and unpublished photos of Krikor Jololian, a French-Armenian photographer, depicting 1930's and 1940's Parisian reality, and unique episodes of the French-Armenian community and the liberation of Paris. Photo cameras will also be presented. From the orphanages of Constantinople to the capital of France, from a promising athlete to a well-known photographer, this is an odyssey of the Armenian Genocide survivor, a life where many similar fates could be reflected.
Krikor Jololian was one of the survivors of the Armenian Genocide who found a shelter in France and became a member of a big French family, and as a model and creative citizen, left his trace in the French history. The once-successful athlete became a photographer maintaining the traditions of sport photography.
The XVII Francophone Summit is a unique opportunity to present these unique episodes of the Armenian-French history and memory to the Francophone family. French-Armenian singer Charles Aznavour's unique photos are also exhibited.
The photos were provided by Patris Jololian, the son of the photographer and a friend of the AGMI.
Temporary exhibitions are free and open for a month.