13.10.2018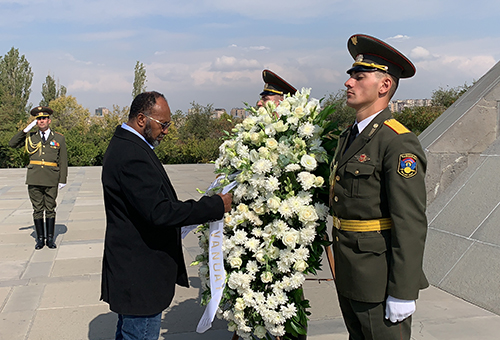 The Prime Minister of the Republic of Vanuatu Charlot Salwai, who arrived in Armenia on an official visit within the XVII Francophone Summit, visited the Armenian Genocide Memorial Complex accompanied by Aramayis Grigoryan, the Deputy Minister of Diaspora of the RA.
The guests from Vanuatu were welcomed by Harutyun Marutyan, the director of Armenian Genocide Museum-Institute, who also introduced to the guests the history of construction of the memorial complex and its symbolism.
The Prime Minister of Vanuatu laid a wreath at the Memorial, and with the members of delegation put flowers at the eternal fire honoring the memory of the innocent martyrs of the genocide.
The members of the delegation, headed by the Prime Minister of Vanuatu, also made a tour around the Memory Wall, got acquainted with its meaning and importance.
The guests were also at the Armenian Genocide Museum, and at the end of the tour the Prime Minister Salwai left a note in the Memory Book of the museum: "In commemoration of the disappeared people of the Armenian Genocide … I express my deep sorrow to the children of the Armenian nation. Let God bless Armenia."
The AGMI director Harutyun Marutyan awarded the Prime Minister of Vanuatu the Aurora Mardiganyan medal, and the book "Armenian Genocide: Front page Coverage in the World Press".