In various societies the family is a most important institute for the transmission of material, spiritual, and cultural values to the next generation. For Armenians, in the absence of their own independent statehood and under foreign domination, the family for centuries has played an indispensable role in preserving national value system and national identity.
By the end of the 19th - beginning of the 20th century matrimonial customs of western Armenians were an important pre-requisite for the preservation of national identity. The marital customs of the Ottoman Armenian were multi-content, sometimes highly diverging yet preserving their religious and national meaning. The formal marriage brokerage could take place in different places from the 'cradle' or from one's childhood years whereas in some other places it could happen only after puberty. The marriage brokerage was followed by engagement ceremony attended by the local priest who blessed the festive table. The weddings among Armenians were normally celebrated on Saturdays when the groom accompanied by his parents was bringing the bride from her parents' home.
It was traditional among Armenians to prepare the children for their wedding from an early age on. The parents felt obliged to teach to their children different crafts, which was an important pre-requisite for the well-being of the future bride and groom. This tradition was preserved among Ottoman Armenians as well. The young girls for instance were taught embroidery, needlework, sewing, dough kneading, bread baking etc., which were given importance to in the family and all these were considered as important prerequisites for a viable family and good upbringing of the children. After reaching a certain age the young girls were seriously preparing their dowry. Young unmarried girls sewed and embroidered bed sheets, pillows and bedding cloths, knitted different clothes, different fancywork used under jars, flower vases and bowls.
The young man who was about to marry had necessarily to master a craft in order to provide for the well-being for his future family.
In the XIX century the art of photography became widely popular in the Ottoman Empire also thanks to the efforts of Armenian photographers. In their collections one can encounter photos of wedding ceremonies and newly married couples reflecting popular traditions of Western Armenia and other Armenian-inhabited regions of the Ottoman Empire preserved. This kind of photographs provides rich information on the Western Armenian wedding rites.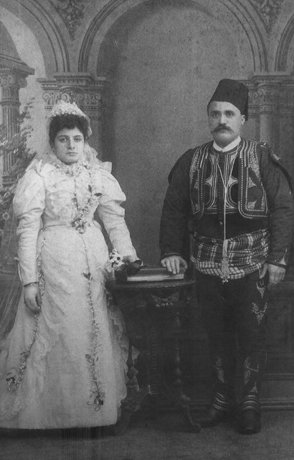 Voski Reisian and Yeranos Topalian, Constantinople,1875
(Hishatak 1896-1930; Pictures and memories: from Armenian family albums between the 19th and 20th centuries)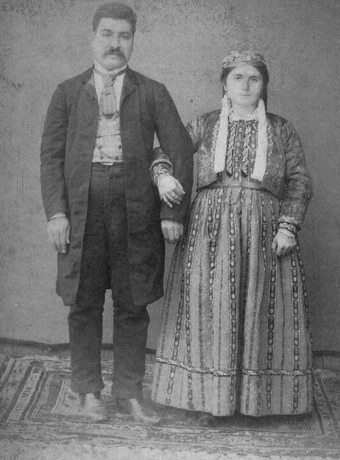 Nicolas and Makruhi Ter-Ghazarian-Gabrielians, Akn, 1880
Archives of Project SAVE
Hovhannes and Taguhi Tarkhanyan-Hakobyanner, Constantinople,1886
Archives of Project SAVE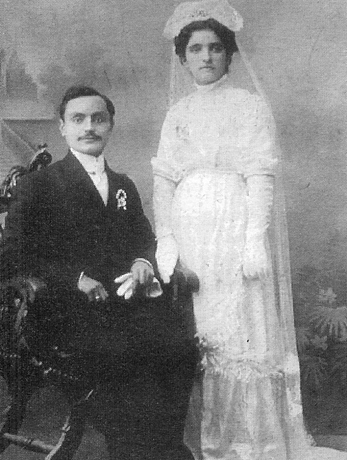 Andranik Guldurian with the bride, Marzvan, 1880
Collection of Nubarian library in Paris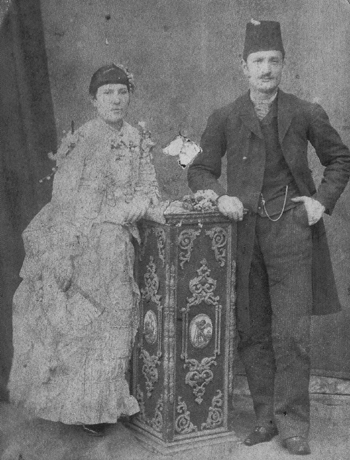 Emanuel and Lusaber Arslanians, Svaz,1890
(Hishatak 1896-1930;Pictures and memories: from Armenian family albums between the 19th and 20th centuries)
Armenian wedding in Tokat, Ottoman Empire, 1899
Archives of Project SAVE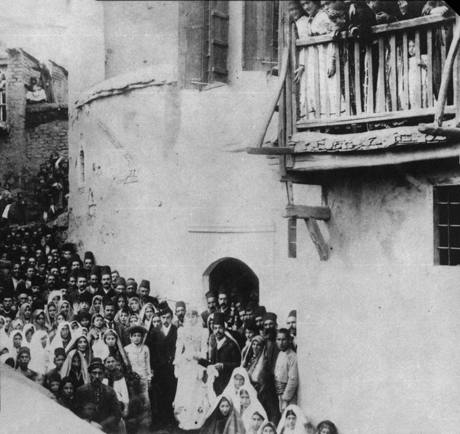 Zoulumians' wedding ceremony, Kharberd, 1892
Archives of Project SAVE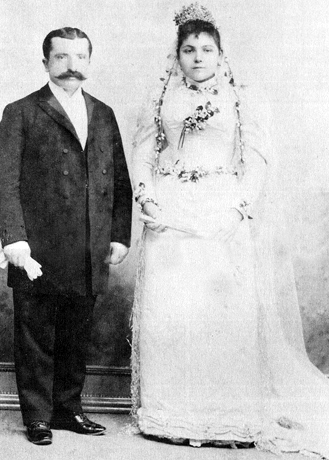 Mkrtich and Asanet Telfeian-Bashians, Constantinople, 1893
Archives of Project SAVE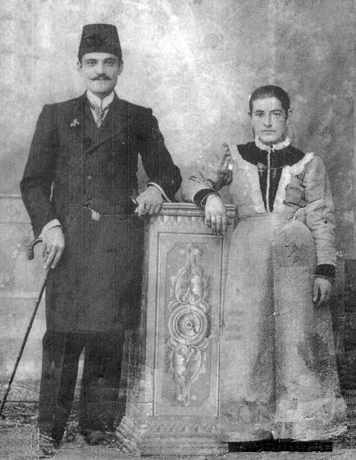 Grigor and Mariam Antonians, Sebastia, 1895
AGMI collection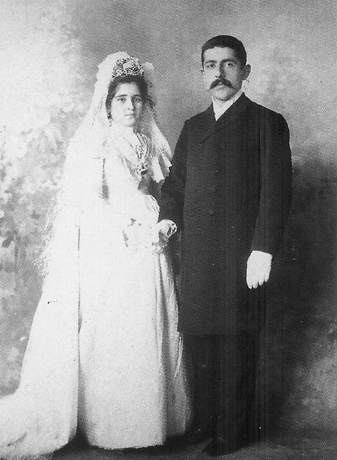 Veronica Alteqosalian and Hakob Manukian, Adana,1898
(Hishatak 1896-1930;Pictures and memories: from Armenian family albums between the 19th and 20th centuries)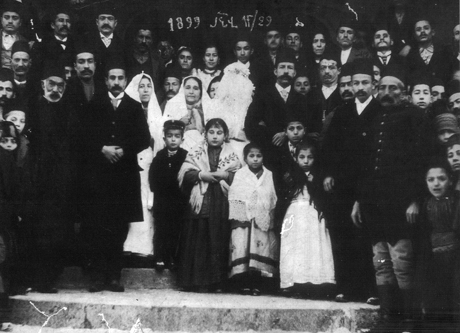 Armenian wedding in Tokat, Ottoman Empire, 1899
Archives of Project SAVE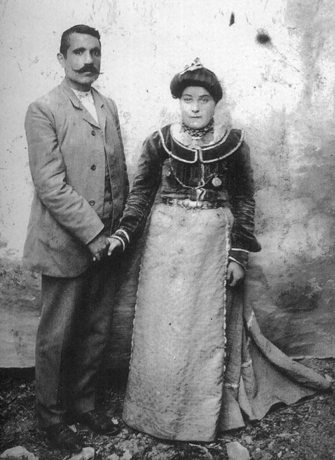 Karapet Jabulian with his bride, Sebastia, 1900
Archives of Project SAVE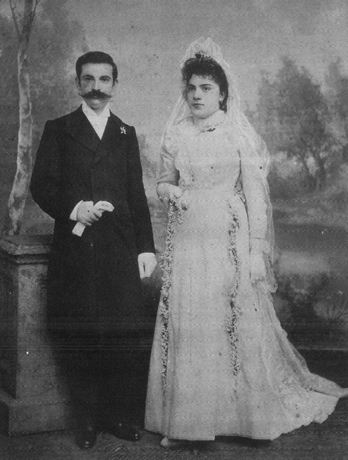 Poghos and Marine TorikianİSimonians, Samsun, 1900
(Hishatak 1896-1930;Pictures and memories: from Armenian family albums between the 19th and 20th centuries)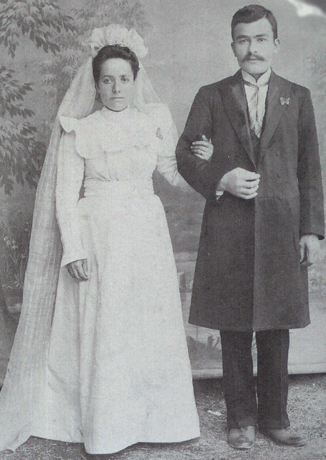 Armenian couple, the names are unknown, Sebastia, 1900
Archives of Project SAVE
Shahnur Ushulian in national wedding costume, Afion-Garahisar, 1900
Archives of Project SAVE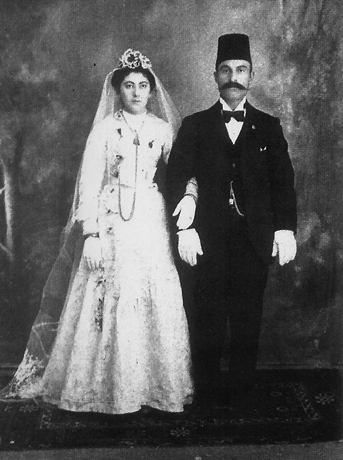 Otians couple, Ottoman Empire, 1900
(Hishatak 1896-1930;Pictures and memories: from Armenian family albums between the 19th and 20th centuries)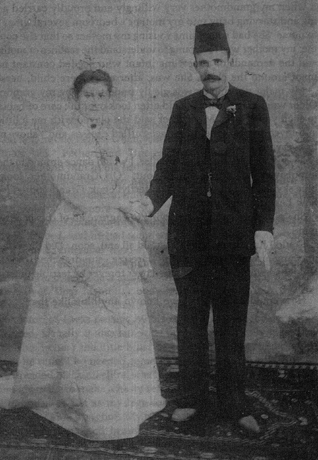 Hakob and Flora Kuyumjians, Gnia, 1900s, from private collection of Tigranuhi Kuyumjian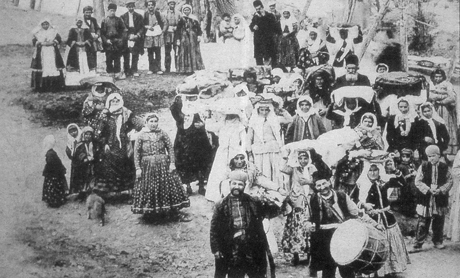 Dowry giving ceremony, province Van, 1900s, from private collection of Michel Paboudjian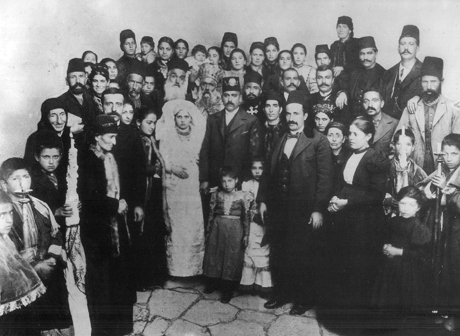 Armenian wedding ceremony, Cesaria, Ottoman Empire, 1901
Archives of Project SAVE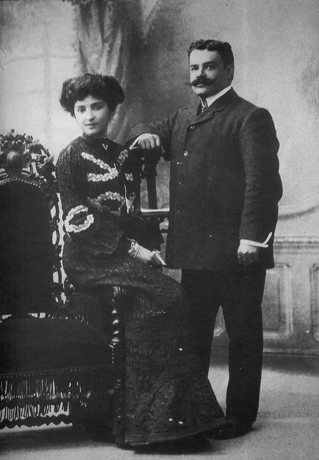 Eliz and Hovsep Artinians, Constantinople,1904
(Hishatak 1896-1930;Pictures and memories: from Armenian family albums between the 19th and 20th centuries)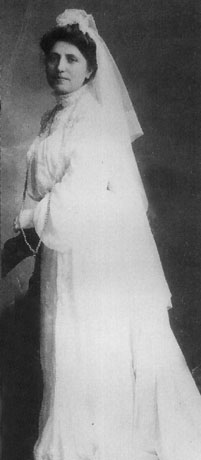 Hermine Koyabashian, Brusa, 1904
Archives of Project SAVE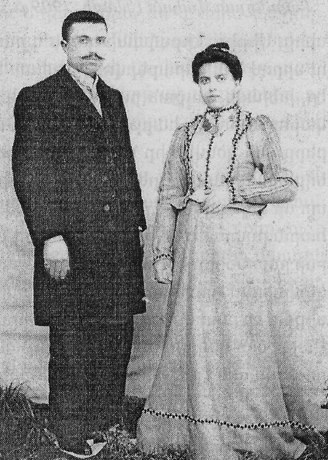 Vahan and Nunya Barseghians, 1904, Agshehir
(Elizabeth Barseghian, "From genocide to rebirth" Yerevan, 2011)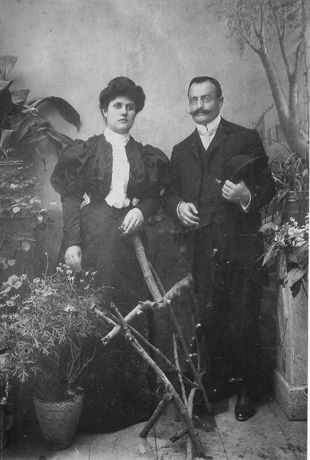 Piruz Ghazarian and Onnik Pambakian, Izmir, 1906
(Hishatak 1896-1930;Pictures and memories: from Armenian family albums between the 19th and 20th centuries)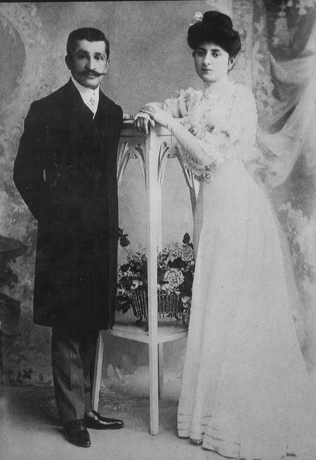 Armenian couple, the names are unknown, Mersin,1906
(Hishatak 1896-1930;Pictures and memories: from Armenian family albums between the 19th and 20th centuries)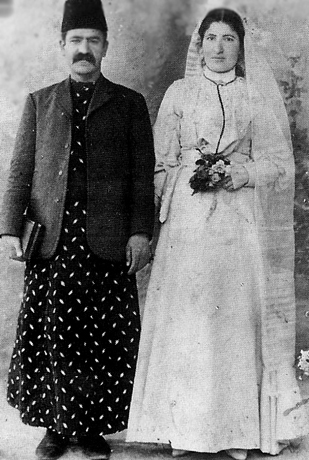 Hovhannes and Victoria Ainilian–Shnorhokians, Aintab, 1908
Archives of Project SAVE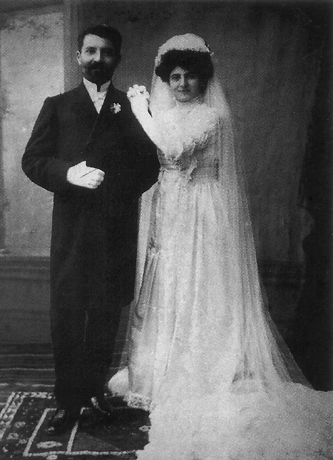 Hovhannes Khasabian and Genovbe Gurekian, Samsun,1909
(Hishatak 1896-1930;Pictures and memories: from Armenian family albums between the 19th and 20th centuries)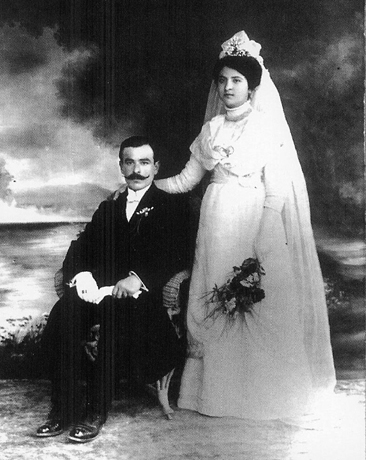 Hajians couple, Aintab, 1910
Archives of Project SAVE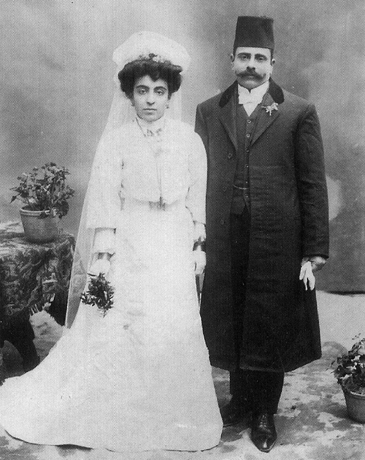 Armenian couple, the names are unknown,Ottoman Empire, 1910
Archives of Project SAVE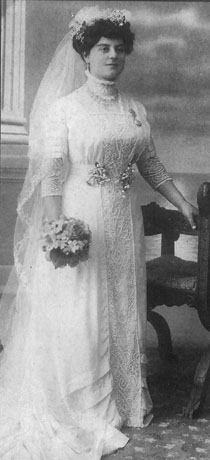 Adrine Bodourian Shishmanian, Brusa, 1912
Archives of Project SAVE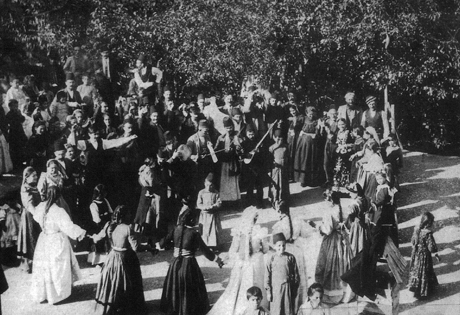 Armenian wedding, Arabkir, 1913
Archives of Project SAVE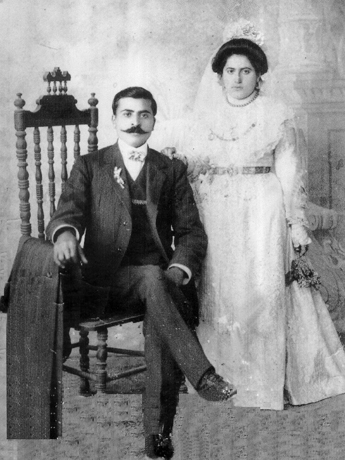 Flora Antonian and Ludwig Kedikyan (Gyodakyan), Constantinople, 1914
AGMI collection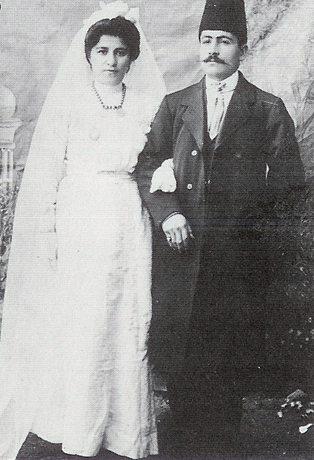 Azniv and Rafael Kostanian-Daraqians, Kharberd, 1914
Archives of Project SAVE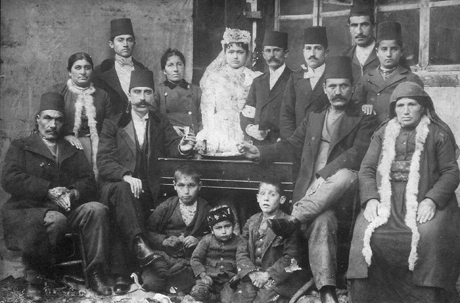 The wedding made of Metsmorkurains' family, Sebastia, 1915
Archives of Project SAVE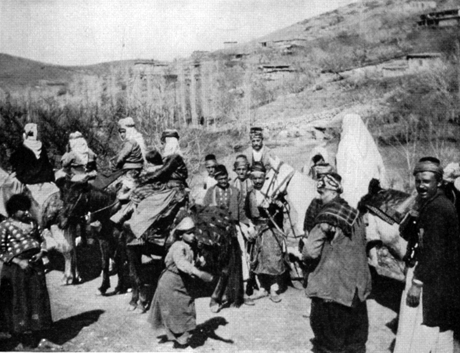 Armenian wedding, Partizak, 1915
(The National Geographic Magazine, Volume XXVIII, N.4)