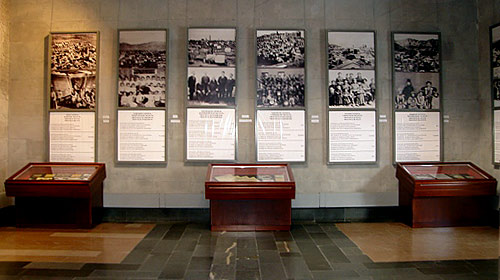 The first exhibit hall of Armenian Genocide Museum
The Museum exhibition halls occupy a space just over 1000 square meters.
They are split up into three indoor halls and one outdoor gallery.
The western wall of the Museum's
first exhibit hall
has a map, nine meters wide and five meters high, engraved in stone, which illustrates the Armenian Plateau and neighboring countries. It clearly depicts Armenia being bordered by the Black Sea to the North, the Caspian Sea to the East, the Iranian Plateau to the South, and the Mediterranean Sea in the Southwest. The map also illustrates the Armenian settlements on the territory of Western Armenia and Ottoman Empire as they existed until the systematic death marches, which began in 1915.
The Introductory Hall exhibits photographs and demographic tables with information about the Armenian settlements and populations circa 1914 in Ottoman Turkey. The content also portrays information on the number of Armenian churches and schools which were functioning in the region at that time. Photo materials in exhibition tables present the peaceful life of Armenian population before Genocide.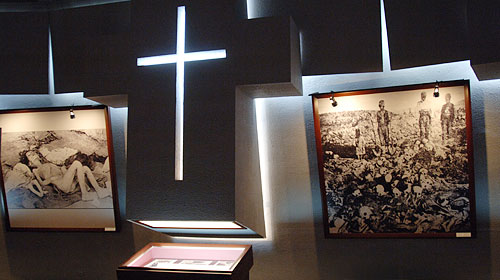 The second exhibit hall of Armenian Genocide Museum
The second exhibit hall
(700 square meters) presents eyewitness reports and documents about the massacres and atrocities perpetrated against the Armenians. The exhibit has many large photographs taken during 1915-1917, archival documents, portraits of prominent Armenians, victims of the atrocities, friends of the Armenian people, and documentary films.
The tables displayed in the
third hall
compare the Armenian population figures in 1914 and 1922 and also define the number of people deported and killed.
A special part of the exhibit is reserved for the original documents issued by international organizations and parliaments of foreign countries condemning the Armenian Genocide.
Various publications about the Armenian Genocide written in many languages are also exhibited here.
This hall also contains population data about the number of Armenians living in Europe, Asia, Africa, the Americas and Australia after the Genocide. In the same hall, granite pedestals support crystal vases which hold earth from historic Armenian regions: Karin (Erzerum), Van, Baghesh (Bitlis), Sebastia (Sivas), Kharpert and Tigranakert (Diarbekir). Here you will also find a granite tree with its branches spread symbolizing eternity and the rebirth of Armenian people.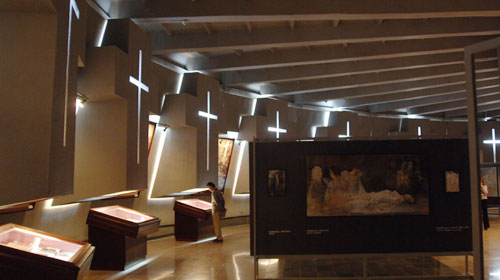 The second exhibit hall of Armenian Genocide Museum
The last hall of the Museum is essentially an
outdoor patio
, a traditional feature found in old Armenian structures. A semicircular basalt wall, divided into twelve equal segments has enscribed statements condemning the Armenian Genocide by prominent foreign politicians, diplomats, scientists, and writers circa 1915. The hall looks like a courtroom where eyewitnesses "present" their condemning evidence.
The last word belongs to the visitor.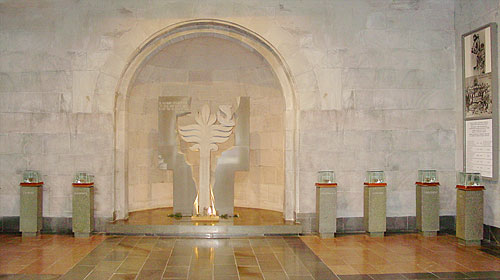 The third exhibit hall of Armenian Genocide Museum
There is also an
art gallery
, named after famous French-Armenian painter Jansem (Hovaness Semerjian) holds temporary exhibitions.