06.12.2007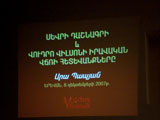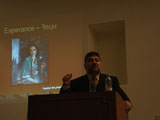 On December 6, in the Komitas hall took place recurrent public lecture organized by AGMI. The lecture read Ara Papian.
Ara Papian was the Ambassador Extraordinary and Plenipotentiary of Armenia to Canada (2000-2006). Prior to his appointment to Canada, he was the spokesman and Head of Public Affairs Department of the Ministry of Foreign Affairs of Armenia. Prior to joining the Armenian Foreign Ministry, Mr. Papian was a Professor of the Armenian language and literature at Melkonian Educational Institute in Nicosia, Cyprus. In 1981-82 and then in 1984-1986, Mr. Papian served as a military interpreter/translator in Afghanistan.
The title of lecture was
legal implications of the treaty of Sevres and Woodrow Wilson's Arbitral Award.
The Treaty of Sevres (August 10, 1920) is a peace treaty signed between Turkey and Allied Powers for the restoration of the peace in the region after WWI. Woodrow Wilson's Arbitral Award finally and irreversibly determined the boundary between Armenia and Turkey on November 22, 1920. Over 85 years wide range of presumably calculated misconceptions laid upon these international instruments.