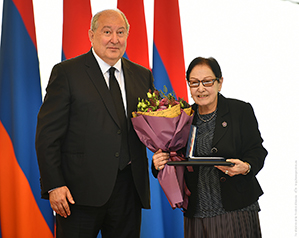 Astghik Edigaryan, the Armenian Genocide Museum-Institute Foundation's senior Russian-language guide, was awarded the Medal of Merit for Labor by the decree of the President of the Republic of Armenia, Armen Sargsyan, on the occasion of the Republic of Armenia's Independence Day for her long years of dedication and conscientious and productive work.
Astghik Yedigaryan was born on 7 August 1939, in Yerevan. She has been working at the Armenian Genocide Museum since 1996.
The order signed by the first director of AGMI, Lavrenti Barseghyan, reads: "Astghik Parnaki Yedigaryan is employed as a guide in the scientific-exhibition department of the Armenian Genocide Museum from 27th August, her salary being 5,400 drams."
From that day on, the former graduate of YSU Faculty of Russian Philology has been dedicated to her work for 25 years.
"This is not just a job, this is a mission"
, she said. At the opening of the international conference dedicated to the 40th anniversary of the Armenian Genocide Memorial, held in 2007, AGMI former director Hayk Demoyan awarded Ms. Yedigaryan with a jubilee gold medal for her many years of dedicated work.
In May 2016 the Speaker of the National Assembly the Republic of Armenia, on behalf of the chairman of the leadership of the National Assembly of the Republic of Armenia, awarded Ms. Yedigaryan and a number of other AGMI staff members with a letter of gratitude for their contribution in raising international public awareness and recognition of the Armenian Genocide.
In August 2019, Harutyun Marutyan, Director of the Armenian Genocide Museum-Institute Foundation, awarded Astghik Edigaryan with the Aurora Mardiganian Medal on her 80th birthday for her long service, dedication and conscientious work.
The entire staff of the Armenian Genocide Museum-Institute Foundation congratulates their dear colleague, wishing her good health and a long life. For more about Astghik Yetigaryan see:
http://www.genocide-museum.am/arm/22.08.2019-AstghikEdigaryan.php