25.09.07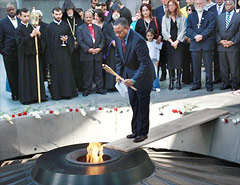 Olympic Dream for Darfur is a global advocacy campaign, whose goal is to secure protection for the civilians of Darfur. A symbolic, international torch relay has already begun and will pass through those countries whose peoples have experienced genocide. The relay began on the Darfur/Chad border in early August, then went to Rwanda. Other countries to be visited include Armenia, Bosnia, Germany and Cambodia. (Symbolic torch relays are also being carried out in the United States and around the world.)
One of the principal goals of Dream for Darfur is to show what happens when the world looks away from genocide and to link the genocides and slaughters of the 20th century, to what is happening in Darfur today.
The stops in these countries not only will show the solidarity between peoples who have experienced genocide, but will also invite worldwide attention to these past genocides. It honors both the victims and survivors of genocide. This is a unique opportunity for Armenians to join this worldwide anti-genocide grassroots movement and demonstrate that we are against all genocides, against any people, anywhere in the world.
In Armenia, participants include: His Holiness Karekin II, Catholicos of All Armenians, the Archbishop of Canterbury Rowan Williams, the General Secretary of the World Council of Churches Sam Kobia, Archbishop Vicken Aykazian, Etchmiadzin's Ecumenical Legate in Washington, DC, as well as the President-Elect of the National Council of Churches of Christ in the USA, and others. In addition, Darfuri and Rwandan genocide survivors, and Armenian Genocide survivors and/or their descendants will participate. Dream for Darfur officials will be present as well.
The relay is expected to end in Hong Kong in December, focusing on the Nanjing Massacre. Using a symbolic Olympic torch, Dream for Darfur wishes to also encourage all concerned citizens of the world to urge the government of China to use its unique role to alleviate the suffering of the people of Darfur. China is host to the 2008 Olympics and with its influential relationship with China is uniquely positioned to help put an end to the suffering in Darfur.
Dream for Darfur does not advocate for a boycott of the Olympics, or withdrawal by any nation. Rather, it believes that the ideal of the Games is a symbol of peace and international cooperation. China's slogan for the Games is One World, One Dream. We hope that dream truly can be realized for all peoples of the world.